Side chain for tebipenem
Alias: 3-Mercapto-1-(1,3-thiazolin-2-yl)azetidine hydrochloride
CAS No.: 179337-57-6
Molecular formula: C6H11ClN2S2
Structure: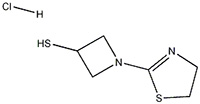 Standard: Enterprise standard
Assay: ≥99.0%
Packing: 25kg/drum
Order
None of the products will be supplied to countries in which this could be in conflict with the existing patents. However the final responsibility lies with the Buyer.
About Us
Products
Order
Contact Us
Sitemap
Chinese